Sale price
Rs.1,200
Regular price
Rs.1,450
Unit price
per
Sale
Sold out
DETAILS

Transform your living spaces with our collection of Stylish Acrylic Wall Clocks, each designed to elevate your decor and captivate attention. At PyariWalls.pk, we specialize in offering wall decor pieces that combine aesthetics and functionality to redefine your interior aesthetics.

Crafted with precision, our wall clocks boast 12-inch needles that create a striking visual impact. The acrylic material adds a modern touch, reflecting light and adding depth to your surroundings.

Whether you're decorating a home office, living room, or bedroom, our Stylish Acrylic Wall Clocks become more than just timekeepers; they become art pieces that enhance your space's charm. The sleek design complements a variety of interior styles, making them versatile additions to any room.

PyariWalls.pk is your destination for exceptional wall decor, and our Stylish Acrylic Wall Clocks embody our commitment to quality and design. Elevate your decor with pieces that exemplify the fusion of form and function.

Discover the perfect Stylish Acrylic Wall Clocks with 12-inch needles that infuse your space with charm and sophistication. With every passing minute, experience the artistry of these timepieces and explore how they redefine your decor. Explore PyariWalls.pk today and discover the world of wall clocks that go beyond mere timekeeping.
View full details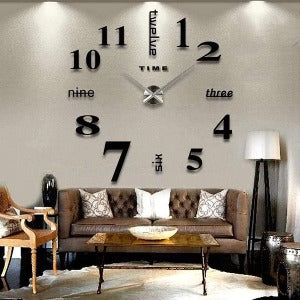 Amir javed
I want to purchase this clock
Malik javed
Any warranty of this product